Student-centred learning is adopted to place students at the centre of the learning process, offering them alternative curriculum and diverse learning experience. English is the medium of instruction to help youngsters get well equipped for the possible global mobilization in the future.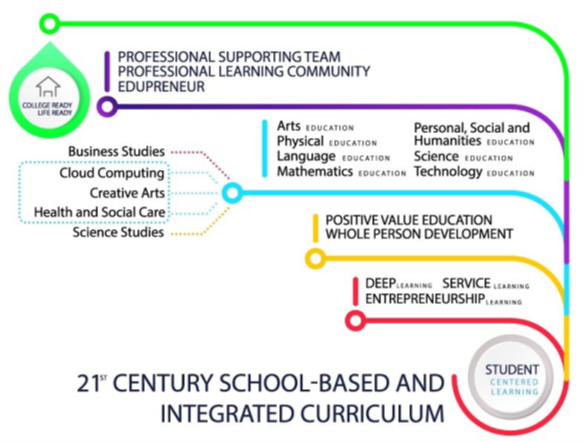 1) School-based and Integrated Curriculum
A school-based and integrated curriculum with a focus of whole-person development and positive value education is developed to foster students to be "College Ready, Life Ready".
2) Student-centered Learning
Students are actively engaged in developing their self-understanding of their own interests, needs and exploration pathways for further development. We offer students extensive opportunities to discover and develop their personal qualities, gifts and talents through academic curriculum and a great diversity of experiential learning programmes.
3) Future Capabilities – Learning for the 21st Century
To meet the needs for the 21st Century development and expand youngsters' future career opportunities, the newly developed streams of studies including "Cloud Computing", "Creative Arts" and "Health & Social Care" are offered in addition to "Business Studies" and "Science Studies".
4) D. S. E. Learning
i. Deep Learning
The deep learning programme allows students to extend and deepen their learning experiences to life beyond the confines of the classroom and school campus through interdisciplinary, experiential and collaborative approach. It engages students in the learning process of acquiring six global competencies namely "character, citizenship, collaboration, communication, creativity, and critical thinking". These competencies encompass compassion, empathy, socio-emotional learning, entrepreneurialism, and related skills required for high functioning in a complex universe.
ii. Service Learning
Holding the belief of "Design for Change", students develop the "I CAN" mindset and inspire others to contribute to the community. Students learn to serve by identifying the community needs as well as creating and developing the solutions to address the problems identified. It is a form of experiential education with a cycle of action and reflection to go through to achieve the real objectives for community, society, nation or even the world and deepen students' self-understanding and learn-to-learn skills in service learning.
iii. Entrepreneurship Learning
It seeks to provide students with a learning platform to develop their motivation, entrepreneurial mindset and 21st-century skills, including goal setting, creative problem-solving, teamwork, communication, digital marketing and learning from mistakes in a variety of authentic business settings under the guidance of teachers and industry consultants.